🠈 About Yuma 🠊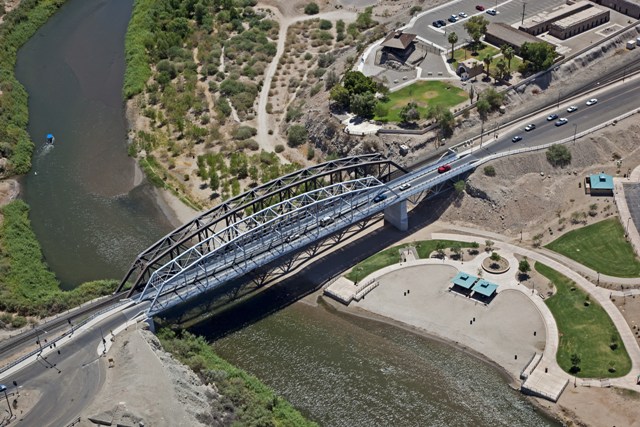 The term "Yuma" refers to a Native American language, a county and city.
Variations of the Yuma Language were spoken by tribes in the Colorado Delta including Quechan and Cocopah tribes. The Quechan and Cocopah Trives engaged in trade between the Pima in Central Arizona and California Tribes.
The Spanish Explorer Hernando de Alarcon explored Baja California and traveled up the Colorado to the Yuma Crossing in 1540. The Yuma Crossing was formed by granite outcroppings that narrowed the Colorado River and made for a simpler river crossing.
The Crossing continued to be a major trade route during the exploration and settlement of the West. The land was ceded to the United States after the Mexican-American War and The Treaty of Guadalupe Hidalgo in 1848.
Fort Yuma was built on the California side of the Colorado River during a period of hostilities called "The Yuma War" from 1850-1853. A town called "Colorado City" developed on the Eastern Side of the River. The town changed it's name to Arizona City in 1858. Arizona City was destroyed by the flood of 1862. The town began to build on higher ground and took the name Yuma in 1873.
Yuma County was one of the four original counties established by the Arizona Territorial Government. The original county seat was La Paz. The county seat moved to Arizona City in 1871 which promptly changed its name to "Yuma."
Yuma continued to grow as a transportation hub. The Ocean to Ocean Bridge, pictured above, was completed in 1914 completing the first Ocean to Ocean vehicle route in the United States.
The Northern stretches of Yuma County split off and became La Paz County in 1982.
Yuma County covers 5,519 square miles. It had a 2010 population of 195,751 with the majority living in Yuma a surrounding suburbs. Yuma continues to be a hub of domestic and International Trade.
Arizona Color Project
In the Arizona Color Project, I am creating an open directory and calendar for counties in the Grand Canyon State. You can learn more about the history of Yuma County in the information section.
Directory Listings: